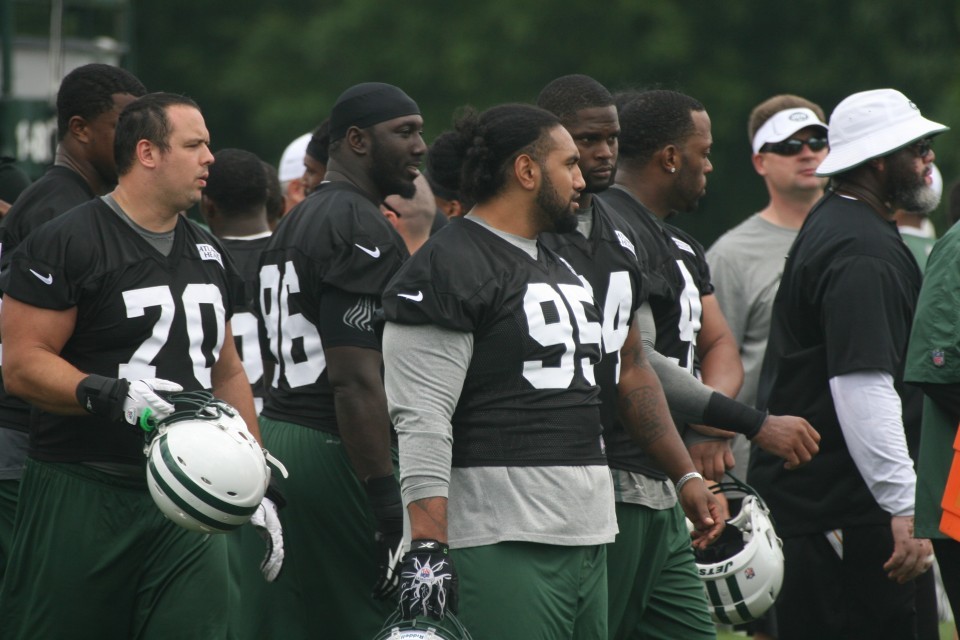 To most of us football is a game but the NFL…well that's a business and a harsh one at that, where any time a player earns a job, another one is cut without any real guarantee that he will find a spot on another team. In the last installment of "Long Shots" we brought you the story of cornerback Isaiah Trufant and his long road to the NFL. You may remember from Trufant's story that after being signed by the Jets late in the 2010 season, he was cut right before the AFC Championship Game against the Steelers in order to make room for today's "long shot," Martin Tevaseu.
The 6″2, 324-pound defensive tackle may not have had a "Trufant-esque" type path to the NFL but as he describes "it was a a rough road." A native of Oakland, California, Tevaseu was pretty highly regarded coming out of high school and signed a letter of intent to play for Arizona State in the Pac-10 but during camp prior to the start of what would have been his freshman season, Tevaseu suffered a serious knee injury. Due to the injury, his stint at Arizona State was over before it even started. Tevaseu returned home to rehab his knee and after fully recuperating, enrolled at Santa Rosa Junior College. While at Santa Rosa in 2007, Tevaseu ballooned to over 400 pounds but still made enough of an impact for DI programs to once again take notice.
In the months following his 2007 season at Santa Rosa, the big defensive lineman dropped nearly a 100 pounds as he prepared to transfer to UNLV, where he was offered a scholarship. Tevaseu made an immediate impact for the "Running Rebs" starting all 12 games in his first season, while continuing to improve. His college career culminated with a stellar senior campaign in 2009, where he served as team captain and was ultimately named UNLV's defensive MVP. Still, Tevaseu had yet to show up on professional scouts' radar screens until he received a late invitation to the East-West Shrine Game .
"Nobody really knew about me coming out of college and then I got an opportunity at the East-West Shrine Game. I went there and played and after a couple of practices there, people began to realize that I had some ability but most were still unsure about me."
That perceived uncertainty was realized when Tevaseu went un-drafted in 2010 however, he did receive some interest from teams in free agency. The then Eric Mangini-led, Cleveland Browns signed Tevaseu as an un-drafted free agent but his stint there would be short. "Things didn't really pan out for me over there, they were stacked at defensive tackle and it was really more of a numbers game." After being cut by the Browns, "MTV" as he is sometimes referred to did not remain in football limbo for long as the Jets picked him up and brought him into camp. "It was crazy how quickly the Jets picked me up and gave me a shot here."
Going into that 2010 season, the Jets had a number of veteran defensive/nose tackles, including Kris Jenkins who, at the time was working his way back from his second major knee surgery as well as Sione Pouha. Due to the number of tackles already on the roster, Tevaseu was among the last cuts after training camp but was then re-signed to the practice squad"Kris and Sione kind of taught me the ropes, the things I need to do like how to properly study formations. etc. "
"Sione specifically has been a great a deal of help me for me. It was different elsewhere, like when I was Cleveland other guys see you as a threat, coming in to take their job. With Sione it was crazy to me because whenever I came off the field, if I ever he had a question he would always answer it. Or If I played the technique wrong, he would come up to me automatically and tell me exactly what I should be doing. He told me my rookie year that he wants to see young guys like myself take full advantage of the opportunity that they've been given and that has meant a lot to me."
Tevaseu spent the entire 2010 season on the practice squad until he was called upon in the biggest game of the year, the AFC Championship Game against the vaunted Pittsburgh Steelers. "I remember when they told me that my first game was going to be the AFC Championship Game and I also remember Rex talking to me before the game asking me if I was ready. It was such an intense feeling, running out of that tunnel with my heart pounding and just seeing a sea of yellow. It was just an amazing thing knowing that my first game was going to be the AFC Championship Game because there are guys that play their entire career and don't even get that opportunity so it was even more special."
Although he didn't show up in the box score, Tevaseu made enough of an impact that the Jets decided to keep him around for the 2011 season and has spent time jumping between the active roster and practice squad. He recorded his first career tackle in the Jets week six, Monday night win over the Dolphins. When asked about what has kept him motivated despite limited playing time and several tours as a member of the practice squad, he had this to offer:   "My thing is that I was always keep in mind the words of my college coach in that you always need to stay hungry and never getting complacent."
Despite the fact that the Jets brought in guys like Kenrick Ellis, Muhammed Wilkerson, and Quinton Coples to compete along the defensive line and potentially take his roster spot, Tevaseu remains optimistic and is excited by the prospects of the defense and specifically the defensive line: "I'm excited about the whole defensive line and how much we have improved, especially with our new coach (Karl Dunbar). Nothing against our coach from last year (Mark Carrier) but coach Dunbar has been a part of teams and has played defensive line in both college and the NFL. I think we're great already but with his coaching and his techniques, I think the sky's the limit."
Tevaseu attributes Dunbar's coaching to his own personal development as a player: "If I had to pinpoint one single aspect of my game that coach Dunbar has helped me improve it would be my pass-rushing ability. He's taught me that I can be more than just a run-stuffer and that I can be a pass-rusher as well and I think it's definitely helped."
MTV will head into camp with the odds stacked against him, given the tremendous amount of depth the Jets have along the defensive line but something tells me we haven't seen the last of him.
---
---
---
---