Every once in a while, the stars are aligned just right and – whether by design or by accident – you might stumble upon a perfect mix of perfectly complimentary components that fuse together to form a whole greater than the sum of its parts. If the TJB Hall of Fame is all about recapturing past glories, teams have been trying to rediscover the formula that led to the Jets boasting the most fearsome defensive line in the NFL in the early eighties.
While their success may have been shortlived and failed to attain the lofty heights of a Superbowl appearance, their dominance will live on as one of the most abiding memories in franchise history, as it gave Jets fans something to cling to as the team was able to forge its own identity, for the first time since Broadway Joe left town.
Today, we honor the New York Sack Exchange as a unit, by inducting them into our TJB Hall of Fame.
The Original Configuration
The Jets, still seeking their first playoff appearance since Joe Namath's departure, attempted to build a strong foundation by drafting DT Marty Lyons in the first round and DE Mark Gastineau in the third round in 1979. The hope was that these would join with DE Joe Klecko and DT Abdul Salaam to form the cornerstones of the defensive line for years to come.
As a rookie, Lyons went straight into the starting lineup, but Gastineau came off the bench and the Jets fell short of the playoffs again at 8-8. The following year saw Gastineau move into the starting lineup and the unit that would become the "New York Sack Exchange" had taken shape. However, early returns were not good, as the team fell to 4-12 and then began the 1981 season 0-3, which included a blowout loss on opening day.
Despite having drafted DE Ben Rudolph in the 3rd round, the Jets stuck with Gastineau and Klecko at DE and Lyons and Salaam inside. (Later on in their respective careers, Lyons would become a DE and Klecko would move inside, a testament to the versatility of the line.) This alignment terrorized offenses over the remainder of the season, as the Jets finally made it back to the postseason with a 10-5-1 record. Although sacks were not an officially recognized statistic at the time, the Jets unofficially led the league with 66 and Klecko and Gastineau led the league with 20.5 and 20 sacks respectively. Salaam had seven and Lyons added six, as the four of them combined for 53.5 sacks on the year, over twenty more than the Jets' number one ranked defense managed as a team last year.
It was during that season that the unit was christened the "New York Sack Exchange" after a fan had written it on a bedsheet and displayed it at one of the games. The name stuck after it was used in a press release and then gathered steam when the four of them were invited to ring the ceremonial opening bell on Wall Street in November.
Although this was the lineup that gave birth to the Sack Exchange moniker, they wouldn't perform together again after the team was ousted in the first round of the playoffs at the end of the 1981 season. Klecko missed almost all of the strike-shortened 1982 season, although the Jets were able to reach the AFC Title game with Kenny Neil playing in his place. Then, in 1983, Salaam was traded and Neil remained at DE, as Klecko moved inside.
Although Lyons, Klecko and Gastineau all remained with the team into the late eighties and enjoyed a modicum of success with a couple more postseason appearances and multiple Pro Bowl nods for Klecko and Gastineau, the unit was unable to recapture the dominance shown in that 1981 season, as the high powered offense began to share the limelight. However, no unit in team history can claim to have had the same impact in terms of creating iconic memories and giving the team an identity to be proud of.
The Critic's Choice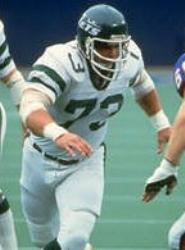 Joe Klecko has already been honored by the TJB Hall of Fame and you can read Bassett's tribute here.
Many believe Klecko should one day be honored by the Pro Football Hall of Fame too, having reached the Pro Bowl in three different positions and unofficially recording more than 20 sacks in a season, something only Strahan, Gastineau, Doleman, White and Taylor have done since the sack has been an officially recorded statistic.
Klecko was a relentless edge rusher in the original incarnation of the Sack Exchange, but went on to display dominance on the interior too, as a key cog in the Jets defensive line for over a decade. Perhaps his most important role within the Sack Exchange, though, was that of leadership. He would often forcefully coerce his fellow linemates to stay and lift and was also charged with keeping the volatile Gastineau's ego in check.
Mr. Dependable
Marty Lyons might never have had the flashy numbers or been to the Pro Bowl, and was probably a bigger star in college than he was in the NFL, after leading the Alabama Crimson Tide to a National Title by spearheading a crucial goalline stand in the closing stages of the Sugar Bowl and making himself a first round pick. However, he was still vitally important to the effectiveness of the Sack Exchange.
Though he recorded six sacks in that fabled 1981 season, his key role was not rushing the passer, nor was it taking on blockers to free up the edge rushers. Rather, Lyons was a run stopper that took pride in forcing the other team into passing situations. He did have pass rushing ability though, as evidenced by his eventual move to DE, which saw him record a career-best 7.5 sacks in 1988.
Lyons was controversially involved in the play that ended Dwight Stephenson's career, when he blocked him low on a fumble return. While Dan Marino called it a cheap shot, Stephenson was more forgiving, saying "I don't think it was necessarily a cheap shot" and "things happen on the field". On a lighter note, he is also remembered for being flagged for "giving him (Jim Kelly) the business" and was also described as "prone to pre-game craziness".
Marty is still a big part of the Jets organization, working as a radio broadcaster, and these days can be found anchoring the frontline of reporters during postgame press conferences. His charitable work, which earned him the NFL's Walter Payton Man of the Year award in 1984, continues to this day, with the Marty Lyons Foundation making wishes come true for children with life threatening or terminal illnesses for over 25 years.
The Fifth Beatle
Abdul Salaam is often the forgotten man when folks reminisce about the vaunted Sack Exchange. However, they never would have enjoyed the same level of success without his contribution.
Though the media's focus would remain on the two ends, Klecko would insist that the spotlight should be shared, stating that "without Abdul and Marty, Mark and I are nothing."
The philosopher of the group, the no-nonsense Salaam, whose name means "Soldier of Peace", spoke of seeking serenity in his life. His characer contrasted dramatically with the down-to-earth but unpredictable Klecko, the fiery Lyons and the aggressively competitive and egotistical Gastineau. This more laid-back persona created a delicate balance within a unit that could co-exist off the field and still took pride in their achievements on it.
Though he left the Jets less than two years after the "New York Sack Exchange" nickname was created, Salaam was a solid player for the Jets for over seven years, starting 85 games. That fact alone makes him worthy of recognition.
Salaam did not make many headlines during his career, but had perhaps his most important moment in a game against the Miami Dolphins at Shea Stadium in November of 1981, on a day when the Jets could move into a first-placed tie with a win.
Having lost RB Mike Augustyniak to a severe chest injury two weeks prior, the Jets had to endure further injury issues as Donald Dykes hurt his arm and Marty Lyons pulled a hamstring. Even worse than that, Richard Todd was laboring through a cracked rib as the Jets trailed 12-6 at the half.
The Jets were still down by three with Miami about to punch in a last-minute, game-clinching touchdown, when Salaam, who had already recorded a first-half sack, plugged the hole and stuffed a third down run for no gain. Having settled for a field goal, the Dolphins then watched the injured Todd lead the Jets downfield and hit Jerome Barkum with the game-winning touchdown pass.
Naturally, it was Todd who got all the headlines and plaudits, with some people referring to this as the "Richard Todd Flak Jacket Game", but they couldn't have done it without Abdul Salaam. Somehow, that was symptomatic of his whole career.
How do you solve a problem like Mark Gastineau?
Which brings us to Mark Gastineau.
While Klecko is arguably the guy with the Hall of Fame credentials, Mark Gastineau was the one with the numbers, the highlight reels and – perhaps most importantly to him – the attention.
The level of dominance he displayed in the first half of the eighties is completely unmatched in Jets folklore. Over a five year span, he was a first team All-Pro selection four times. The one time he didn't make it, he had 20 sacks!
As mentioned above, only five players have ever had more than 20 sacks in a season, since the sack became an officially recognized statistic, but Gastineau, who had 92 sacks in his first 89 starts, had three separate seasons with 19 or more. As further evidence of his dominance, even against top level competition, he recorded at least one sack (7.5 overall) in each of his six postseason starts and was named the MVP of the 1985 Pro Bowl when he recorded four sacks, including one for a safety – and they used to try in those days!
His 22 sack season in 1984 set an NFL record that stood for 17 years and would still be the record today, if Brett Favre and Michael Strahan hadn't decided to reinact the "Fingerpoke of Doom".
Though the other five years of his ten-year NFL career were, for the mostpart, underwhelming, very few (if any) Jets can claim to have played at such an elite level as Gastineau did during his peak and he was also a popular figure with the fans during that period. So…why, therefore, has it taken this long for him to be recognized (as part of a group) in the TJB Hall of Fame?
Simply put, Gastineau was flawed. He made mistakes, some of which many Jets fans and media figures have never forgiven him for. His acrimonious departure from the team was the final straw for many. Gastineau has since become a born-again Christian, eshewed the limelight he used to crave and displayed remorse for his actions, but old wounds run deep.
Some of these indiscretions can be easily forgiven. Breaking the picket line during the 1987 Player's Strike may have angered some teammates, but he was far from being the only high profile player to do so. Many point to his roughing the passer penalty as having cost the Jets a place in the AFC Title Game in January 1987, but under the rules at the time, that was a bogus call and the team still had to blow a ten-point lead in the last four minutes and miss a chip-shot field goal. His admitted use of anabolic steroids as he tried to recapture past glories at the end of his career is another black mark, although it is widely held that their usage was widespread at that time, including by many of the offensive linemen that Gastineau was matched up against.
Perhaps the most unforgiveable sin of all was the way he was seen to have turned his back on the team when he retired in midseason in 1988, reportedly to spend time with his girlfriend Brigitte Nielson after reports that she had been diagnosed with cancer. In fact, subsequent reports confirmed that Nielson merely had an infection that can develop into cancer if left untreated and Gastineau had retired to avoid an impending substance abuse ban.
Others have claimed he was overrated and only enjoyed much of his success because the defense's attention was centered on Klecko. While it's true that the Sack Exchange members all served to make each other better, Klecko missed almost all of the strike-shortened 1982 season and Gastineau was still an All-Pro with 10 sacks in 12 games, including four in the postseason, which would seem to debunk this claim.
Many people, including several of his teammates, didn't like his iconic sack dance, which was banned by the league following a brawl triggered by Rams lineman Jackie Slater. This fuelled his ego, another reason he was disliked, as he brawled with teammates and competed with his linemates for who would get the most sacks. However, as a great athlete with a big ego that drove him, he was hardly unique in that regard, and would stand out even less in these times.
Now that the Jets organization and those teammates he once feuded with seem to have forgiven him, it falls on us fans to decide whether we are prepared to do the same. While it's still fair to condemn his weaknesses, this Hall of Fame humbly exists to celebrate greatness. No Jets Hall of Fame could ever be complete without recognizing his contribution. For one who seemed so pre-occupied with personal glory, it seems that the most appropriate and fitting compromise is to recognize him along with his linemates for giving the long-suffering Jets fans something exciting to latch onto as the Jets became relevant again in the eighties.
So, congratulations and welcome to the TJB Hall of Fame, Mark Gastineau, Joe Klecko, Marty Lyons and Abdul Salaam, aka the New York Sack Exchange. We are proud to recognize your individual and collective greatness.
---
---
---
---