Unsung Heroes
Daniel Marcus , theJetsBlog.com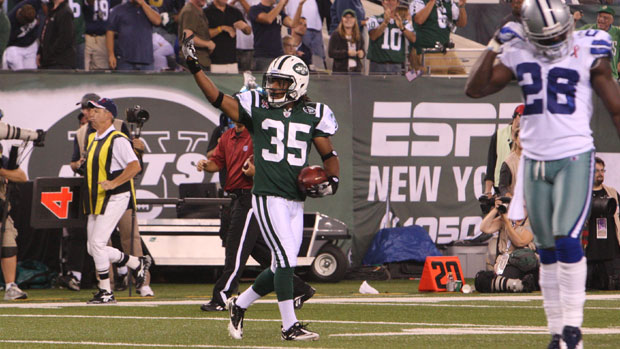 Like most of you, I am still trying to recover from having my heart ripped out and I don't think my blood pressure will be back at normal levels for the foreseeable future. That said, in keeping with tradition there will be no game balls after a loss but there were a number of guys who did step up in a big way and I wanted to find a way to honor their play and efforts so here we go:
Isaiah Trufant:
If you don't know this guys's back story, I suggest you read it and then try not to root for him. For the first time in his Jets tenure, Trufant figured prominently into the defensive game plan as the nickel back, primarily for his speed and he had himself one hell of a game. The diminutive cornerback showed what he could do when given an opportunity as he put on a tackling display, racking up six including two tackles for a loss. Trufant is obviously limited in man coverage against taller receivers but I think this game inspired confidence in the coaching staff and may set up him for a more regular role on defense.
Lex Hilliard:
The former Dolphin was easily the Jets most valuable player against the Pats, you name it he did it. Hilliard excelled on offense, carrying the ball, catching it out of the backfield, and perhaps most importantly in pass protection. John Conner's injury(ies) and subsequent settlement/release opened the door for Hilliard and he has been the dynamic, capable Fullback that the Jets have been missing. Oh and did I mention he forced the Devin McCourty fumble that set the Jets up for what was at the time, the go-ahead field goal.
Konrad Reuland:
Reuland saw what was probably an unexpected increase in playing time after Jeff Cumberland went down with a hand injury and although he didn't put up what anyone would call remarkable numbers on the stat sheet, with only one catch for 11 yards. However, his biggest contribution was something along the lines of a David Blane-esque magic trick as he came away with what would have been a costly Shonn Greene fumble. Despite the fact that Reuland was pretty far away from the play and jumped into the fray late, somehow he was able to come away with the ball and for that he should be commended.
Jason Hill:
Hill did not play much at all but he made his one snap (that I saw him play) count, when on a crucial 3rd and 5 in overtime, he drew a holding call on Alonzo Dennard after beating him on a double move. The Jets need someone with speed to draw calls like that in the absence of Santonio Holmes, who made drawing penalties into an art form. If the Jets don't make a move for "that guy" then that is exactly what Hill may have to be moving forward.