As the Jets journey towards the draft in April, we here at TJB will be taking a look into prospects that could be on the Jets draft board. Today we will be taking a look at: Jordan Shipley.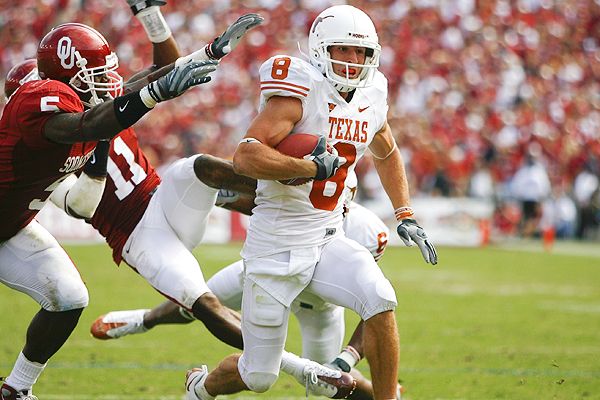 The Good: Shipley can reach top speed with ease and will find a crease to burst through and believe me he will make life difficult for you with his speed! He has very balanced body control, a great pair of hands and is willing to put his body on the line. Shipley can also throw the opposing corner off balance and can run great routes. Did I mention he loves to block? Overall Shipley is very savvy and can help out on STS as well.
The Bad: What can you not like about the guy? His height isn't the standard set by other NFL receivers but the fact that he can manipulate DB's outweighs that factor. He can't maintain seperation deep and will have issue jumping for the ball especially with a bigger defender breathing down his neck.
The Bottom Line: Even Shipley's faults can't outweigh the positive attitude and work ethic he would bring to the team. Based on the information I have read, Shipley would be a perfect fit for the Jets slot position and would be a very dangerous weapon for Mark Sanchez to utilize. I could definitely see Shipley in Green and White come April.
Below are some of Shipley's highlights:
httpv://www.youtube.com/watch?v=NnhauBSSm58
---
---
---
---