Opinion: The Sanchez Conundrum
Daniel Marcus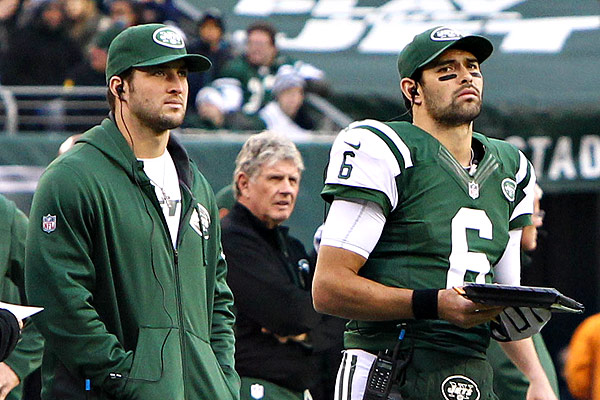 It appears as though this is it for Mark Sanchez, the quarterback who many used to refer to as the "Sanchize" has seemingly worn out all of the goodwill shown to him by this franchise over his nearly four-year tenure. With Rex Ryan's announcement that he will be the starter this week against Jacksonville, Sanchez is likely entering his final audition for the starting job and who knows whether or not his fate has already been sealed. I, like many Jets fans have wanted to and continue to want to believe that Sanchez can be a good starting quarterback in this league but unfortunately he has done nothing to justify that belief, it's more like blind faith. Why believe in someone who has been so uninspiring to this point, the answer is complicated but indulge me if you feel so inclined:
Brief Rehashing of History
In 2009 we saw a rookie in every sense of the word, making the mistakes characteristic of his experience but by the same token, we saw flashes of what could be of the guy the Jets traded up to take with the number five overall pick. That year, the coaching staff only asked him to play complementary football given that the team had the best running attack in the league by a wide margin. The kid showed room for improvement and a potentially high upside and us fans were full of hope and whimsy of what could be and when all the planets aligned for the team to sneak into the playoffs, Sanchez looked very much like the "Sanchize."
When the pressure and stakes were at their highest, Sanchez stepped up and played some pretty good football, albeit aided in large part by a dominant defense and running attack but he was making plays. As a rookie with really only a year of starting experience in college football, Sanchez took the Jets to the AFC Championship Game and had them in a position to make an improbable Super Bowl run until the wheels fell off and injuries derailed the would be "Cinderella Story."
The following year, the expectations increased given the success of his rookie season and a series of big name off-season acquisitions. Armed with the best supporting cast he could possibly ask for, which included a Super Bowl MVP and a First-Ballot Hall of Famer, Sanchez showed marked improvement. In fact he went his first five games without committing a turnover, while winning games in dramatic fashion and coming through in the clutch. The trajectory of his young career was still ascending, albeit with a lot of room still to grow but it looked as though Sanchez was improving and the on-field results bore it out.
The second-year quarterback led the team to 11 wins and a playoff berth and again he shone when thrust on to the big stage leading a come-from-behind win over the Colts in "Peyton's Place." He followed that one up with the last really great game the Jets have played by knocking off the vaunted Patriots in Foxboro. Here we go again, as Rex famously said "The Same Old Jets back in the AFC Championship Game" and although the defense decided not to show up in the first half, Sanchez played a great game and nearly led the team all the way back.
At this point, given how successful he had been in his first two years, Sanchez was destined to be a victim of his own success and many expected him to make that leap that so many quarterbacks in year three. After the first game in which, he out-dueled Tony Romo on Sunday Night Football on the 10th anniversary of 9/11, while leading the Jets to a thrilling comeback victory it looked like he was well on his way. Sanchez followed up that performance with a roll-over win against the lowly Jaguars and then things began to go south fairly quickly, although he did play pretty well the following week in Oakland.
Where Everything Changed:
Due to injuries and sheer ineptitude, the offensive line was as porous as it had been over the course of Sanchez's career and that game against Baltimore on Sunday Night will go down in my mind as "the day the music died" for Mark Sanchez. Never before in his career had Sanchez been under such constant pressure and duress, it was from that point on that we saw a different player, some may call it shell shock or loss of confidence but whatever it was, he has never looked the same if you ask me.
Ever since that fateful night in Baltimore it seems as though Sanchez has lost that edge and that belief in himself, the biggest thing you notice in terms of changes to his game post 2010 is that he has seemingly lost all sense of the pocket and is now devoid of pocket presence. How many times in 2010 did you see him sense the rush, step up in the pocket and create? Instead, a lack of confidence in his offensive line set him back last year. Granted, number six was never the most accurate passer in the league but his ability to protect the football that many like to talk so much about has been irreparably harmed by the loss of poise and pocket presence. I can't tell you how many times I have seen him unable to anticipate or sense the rush and cough up the football. Take away many of the fumbles last season and this team is likely in the playoffs.
2011 marked the season in which Sanchez's career trajectory started trending in the opposite direction and it has yet to recover. In fact, it looks as though he is back to square one making rookie mistakes. Last season many people gave the former first-round pick a pass given how poorly the offensive line had played and its inevitable effect on the offensive output. However, this season he has seemingly continue to regress with an improved offensive line but a rag-tag supporting cast devoid of any real weapon after Santonio Holmes went down with a season-ending foot injury.
The thing that is probably most disconcerting to Jets fans is how little the team really asks of him, i.e. convert first downs, manage the game, and most importantly, take care of the football. Taking care of the football has been a problem for Sanchez since he walked into the league but in what is his fourth season, he is committing turnovers uncharacteristic of even a rookie (see butt fumble). Let's leave the king of all football bloopers alone for a moment and focus on the most egregious turnovers, the red zone interceptions as well as interceptions in opposing territory. Such turnovers are enough to kill any team and are inexcusable for a quarterback with Sanchez's experience, this is what alarms most people and has caused fans, pundits, and perhaps the organization alike, to lose faith in him.
The Obvious Dilemma:
After the Thanksgiving debacle I was sure that I had seen enough to know that I had too much of Sanchez under center but after his benching and subsequent reinsertion into the lineup, I am torn. On one hand, how much longer can one watch the same thing over and over again, only to expect different results? It's obvious something has to change, but I am not 100% sure that it is the quarterback. A case can be made both ways because since 2010 the organization has not done him many favors in terms of surrounding him with talent or a cohesive offensive line. Couple that with the fact that the whole Tebow experiment has to have played with this psyche and confidence and it is for that reason I feel as though I could give him one more shot.
At this point I am willing to concede that he will never be an elite or even upper echelon quarterback but we know that as a complementary player, Sanchez can thrive but that means surrounding him the requisite weapons and players. It may be delusion, the aforementioned desire to believe, or simply an overwhelming aversion to starting over again and everything that entails but given his contract situation it may behoove the organization to build around their quarterback. It's safe to say that up to this point that stocking the offense with quality players has not been a priority of this team's hierarchy over the past few years and the quarterback has suffered as a result.
The leash is a short one for Sanchez, who given his contract will likely be around for 2013 but I have to believe that the Jets hierarchy will test his mettle by bringing in someone who is actually a legitimate threat to his job unlike Tebow who is more of a gimmick. There really is no clear answer as to what Rex and the Jets should do in terms of Sanchez and the quarterback position in general but I would expect a flurry of moves that revolves around restocking the offense and either signing or drafting some legitimate competition for the beleaguered Sanchez.
I can't think of a more frustrating or perplexing player because the flashes of greatness (four road playoff wins) are what really make me want to believe but there comes a point when you have to say "enough." Most Jets fans are at that point and as early as Monday so was I, trying to figure out a way to restructure his contract in order to find out the best way to jettison the second-most successful quarterback in franchise history. However, given the virtually iron-clad nature of the contract and the potential for him to respond and be resilient in the face of being benched keeps that sliver of hope alive.
In what will likely be billed as "Sanchez's Last Stand," the Jets take on the Jaguars in Jacksonville and we will see what this guy is really made of. To quote advice given to another train wreck, Charlie Sheen in the original "Wall Street": "Man looks in the abyss, there's nothing staring back at him. At that moment, man finds his character. And that is what keeps him out of the abyss." Sanchez is staring directly into the proverbial abyss and we will find out his true character this Sunday at 1:00 PM.
---
---
---
---